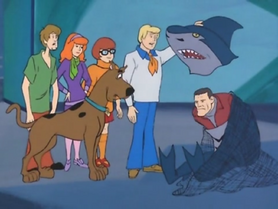 The Demon Shark appears in "There's a Demon Shark in the Foggy Dark", an episode of The Scooby-Doo Show.
Physical appearance
The creature was a large anthropomorphic shark. Unlike Jabberjaw, it also had webbed hands and feet.
History
Mr. Wells planned to use the shark disguise to escape with stolen pearls.
External links
Ad blocker interference detected!
Wikia is a free-to-use site that makes money from advertising. We have a modified experience for viewers using ad blockers

Wikia is not accessible if you've made further modifications. Remove the custom ad blocker rule(s) and the page will load as expected.