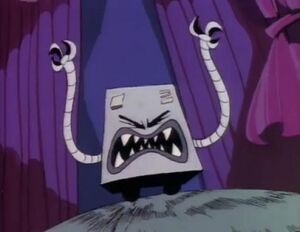 The Dinkley 2000 appears in "The Computer Walks Among Us", an episode of A Pup Named Scooby-Doo. It is a robot created by Velma Dinkley.
History
Bruce Wormsley, one of Velma's classmates, used the Dinkley 2000 as a disguise when he got tired of being number two and decided to get Velma in trouble with her own robot.
External links
Ad blocker interference detected!
Wikia is a free-to-use site that makes money from advertising. We have a modified experience for viewers using ad blockers

Wikia is not accessible if you've made further modifications. Remove the custom ad blocker rule(s) and the page will load as expected.