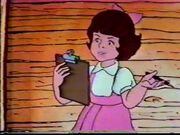 First aired: November 27, 1982
Story by: Unrevealed
Duration: 30 seconds
Cast
Summary
Darla conducts a survey, holding a clipboard in her hand, and asks Porky how many meals he eats per day. When Buckwheat interprets Porky's response, Darla faints in shock.
Notes/Trivia
The second of three 30-second skits that Darla appears in.
The last 30-second skit to use its original background music.
When rebroadcast on September 3, 1983, it was the last 30-second skit to be aired on ABC.
Ad blocker interference detected!
Wikia is a free-to-use site that makes money from advertising. We have a modified experience for viewers using ad blockers

Wikia is not accessible if you've made further modifications. Remove the custom ad blocker rule(s) and the page will load as expected.