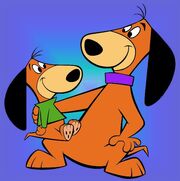 Doggie Daddy
is the father of
Augie Doggie
on
The Quick Draw McGraw Show
. His voice is based on that of the comedian Jimmy Durante. Doggie Daddy always tries to do the best he can at raising his rambunctious son Augie. Their mutual admiration included Daddy gently chiding, "Augie, my son, my son", when he would disappoint his father; and when his son would say or do something that inspired pride, Daddy would turn to the audience and say (with a grin), "Dat's my boy who said dat!"
Gallery
Ad blocker interference detected!
Wikia is a free-to-use site that makes money from advertising. We have a modified experience for viewers using ad blockers

Wikia is not accessible if you've made further modifications. Remove the custom ad blocker rule(s) and the page will load as expected.