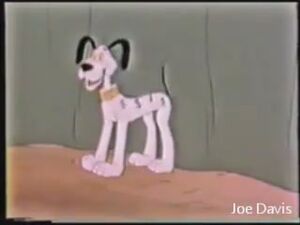 Dollar is the pet dog of Richie Rich, in both the Harvey Comics series of publications and the Hanna-Barbera animated series. Richie refers to him as a "Dollarmatian", which is a fictional variation of dalmatian, in that his fur has dollar signs instead of spots. Dollar always accompanies Richie everywhere he goes, whether Richie tries to foil a crime, or goes on a rescue mission.
In all media versions, Dollar is obsessed with food, in the same manner as Scooby-Doo. In the animated series, he sometimes imagines himself performing some heroic feat, but fails when he actually tries it. It can be inferred that Dollar attempts these feats just to show off.
Ad blocker interference detected!
Wikia is a free-to-use site that makes money from advertising. We have a modified experience for viewers using ad blockers

Wikia is not accessible if you've made further modifications. Remove the custom ad blocker rule(s) and the page will load as expected.