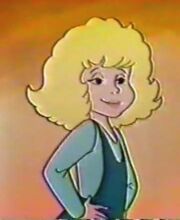 Dolly Van Dumpling is a one-time character in The Little Rascals animated series, whose only appearance is in the 11-minute episode "Beauty Queen for a Day." She was voiced by Russi Taylor.
After the boys stood to the mission of the "He-Man Woman Haters Club", the boys had developed a spontaneous crush on Dolly Van Dumpling, a blond girl who had just moved into Greenpoint. The boys competed for her affection, which ended up hurting Darla Hood's feelings.
In the garage of her house, Darla did tell Pete he was the only friend she had left. After being wooed by Butch and Woim, she decided to run away from home, but learned that a child beauty pageant was accepting registrations.
Darla and Dolly were both interested in participating, but the boys wanted Darla to lose in order to win Dolly's affections. Dolly ended up winning the pageant, causing Darla to cry. In the wake of Darla's disappointment, the boys made up and decided to accept Darla in the club, where she was dubbed the club's queen.
Ad blocker interference detected!
Wikia is a free-to-use site that makes money from advertising. We have a modified experience for viewers using ad blockers

Wikia is not accessible if you've made further modifications. Remove the custom ad blocker rule(s) and the page will load as expected.