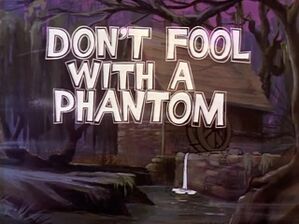 Don't Fool with a Phantom is the first episode of The Funky Phantom. it aired on September 11, 1971.
Plot
When the gang learns that a farmer may lose his farm, they decide to enter the Looney Duney in the race, and donate the prize money to him. They convert the vehicle (after Mudsy had wrecked it) into the Monstermobile, but that night, a criminal called the Raven steals it to keep them out of the race. Can Mudsy and the gang get the Monstermobile back and stop the Raven from getting the farm ?
Gallery
Ad blocker interference detected!
Wikia is a free-to-use site that makes money from advertising. We have a modified experience for viewers using ad blockers

Wikia is not accessible if you've made further modifications. Remove the custom ad blocker rule(s) and the page will load as expected.