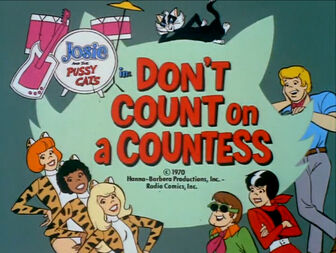 Don't Count on a Countess is the 16th and final episode of Josie and the Pussycats. It originally aired on January 2, 1971.
Plot
It seems the Pussycats have actually got the big gig when the gang is invited by an eccentric countess to play a private performance on her secluded Mediterranean island, where they discover too late that the invitation was a ruse to obtain young test subjects for her rapid aging mist. Will our heroes end up collecting Social Security at age 25?
Ad blocker interference detected!
Wikia is a free-to-use site that makes money from advertising. We have a modified experience for viewers using ad blockers

Wikia is not accessible if you've made further modifications. Remove the custom ad blocker rule(s) and the page will load as expected.