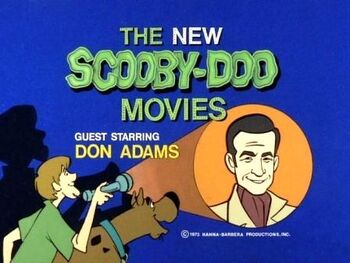 Don Adams (Donald James Yarmy, April 13, 1923–September 25, 2005) was an American comic actor, best known as Maxwell Smart on the 1960s sitcom Get Smart. He was a guest on The New Scooby-Doo Movies and on Wait till Your Father Gets Home.
Biography
Don Adams was born Donald James Yarmy in New York, to a father of Hungarian Jewish descent, and a mother of German and Irish ancestry. He had a sister, Gloria, and a brother, Dick Yarmy. He served in the U.S. Marine Corps in World War II and contracted malaria during the fighting on Guadalcanal island. After the war he began a career as a stand-up comic.
He married singer Adelaide Adams and adopted her last name as his stage surname. He had seven children altogether (four with his first wife, two with his second, one with his third): Caroline Adams, Christine, Catherine, Cecily Adams, Stacey Adams, Sean, Beige. His television career began when he won the Ted Mack & the Original Amateur Hour (1948) talent contest.
His most famous role, of course, is as bumbling, incompetent, clueless yet endearing secret agent Maxwell Smart in the classic sitcom/spy spoof Get Smart (1965), although he also had a career as a television director and a Broadway and theatrical dramatic actor.
Trivia
Adams' other animation voice work included the lead roles on Tennessee Tuxedo and His Tales and Inspector Gadget.
In 1999, he started to play Maxwell Smart once again, this time in a successful series of Canadian TV commercials for the "Buck-a-Call" long-distance service.
He once said that he changed his last name from Yarmy to Adams because he was tired of having to go last at auditions, which, he said (inaccurately), usually went in alphabetical order. In reality, he took his stage name from his first wife, singer Adelaide Adams, with whom he shared a bill on the nightclub circuit.
His clipped Maxwell Smart voice came from a much exaggerated takeoff on William Powell's character in The Thin Man. Adams used to get laughs using the exact same voice years earlier on the stand-up circuit in different character set pieces: a baseball umpire, a football coach, a defense attorney.
External links