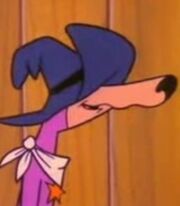 Droop-a-Long Coyote
(voiced by Mel Blanc impersonating Ken Curtis' Festus Haggen character from the TV Western, "Gunsmoke".) was never able to be as "jumpy" and would end up crashing through a window, or some similar accident except on one occasion when Ricochet and Droop-a-Long were running away from a bear.
Ad blocker interference detected!
Wikia is a free-to-use site that makes money from advertising. We have a modified experience for viewers using ad blockers

Wikia is not accessible if you've made further modifications. Remove the custom ad blocker rule(s) and the page will load as expected.