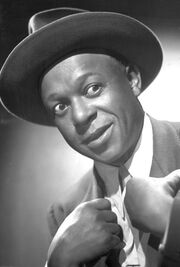 Edmund Lincoln Anderson
(September 18, 1905–February 28, 1977), also known as Eddie "Rochester" Anderson, was an American comedian and actor. His most famous role was that of Rochester van Jones, usually known simply as "Rochester", the valet of Jack Benny, on his radio and television shows. With this, Anderson became the first African-American to have a regular role on a nationwide radio program.
For Hanna-Barbera, Anderson was the voice of Bobby Joe Mason on The Harlem Globetrotters and The New Scooby-Doo Movies.
External links
Ad blocker interference detected!
Wikia is a free-to-use site that makes money from advertising. We have a modified experience for viewers using ad blockers

Wikia is not accessible if you've made further modifications. Remove the custom ad blocker rule(s) and the page will load as expected.