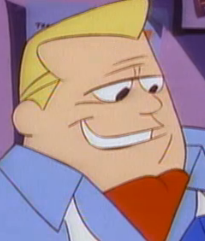 Eddie Jones is the uncle of Fred Jones. He appears in "Chickenstein Lives", an episode of A Pup Named Scooby-Doo.
Physical appearance
Eddie looks like a mature version of his nephew.
Personality
Like his nephew, Eddie is a conspiracy theorist who tends to accept tabloid newspaper stories as legitimate news.
History
Eddie purchased the National Exaggerator tabloid newspaper, and he wanted help in dealing with the Chickenstein monster.
Notes/trivia
Frank Welker, who voices Eddie Jones, is best known as the voice of the teenage/young adult Fred Jones in mainline Scooby-Doo continuity.
External links
Ad blocker interference detected!
Wikia is a free-to-use site that makes money from advertising. We have a modified experience for viewers using ad blockers

Wikia is not accessible if you've made further modifications. Remove the custom ad blocker rule(s) and the page will load as expected.