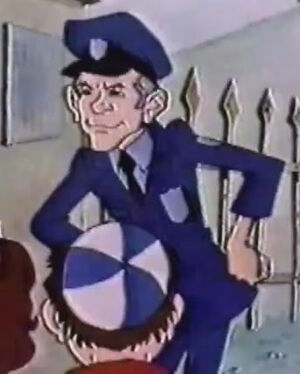 Edgar Kennedy (April 26, 1890–November 9, 1948) was an American character actor. In Hanna-Barbera's animated series of The Little Rascals, his Officer Ed character was voiced by Peter Cullen.
Biography
Edgar Kennedy, who was born on April 26, 1890, near Monterey, California, hit the road as a young man and traveled across the country, working in a succession of jobs. He became a professional boxer, claiming to have gone 14 rounds against The Manassas Mauler, Jack Dempsey.
In addition to his knowledge of the "Sweet Science", Kennedy possessed a good musical voice, and wound up singing in musical shows in the Midwest, his first taste of show business. During his cross-country peregrinations he wound up in Los Angeles, and found himself hired as an actor by comedy producer Mack Sennett. At the Sennett Studios he was allegedly one of the original Keystone Kops, but soon graduated from bit parts to supporting roles in Keystone comedies, including Tillie's Punctured Romance (1914) with Charles Chaplin. Kennedy had good roles in other Chaplin movies, but when his contract expired in 1921 he went freelance, though he did occasionally return to Sennett.
After leaving Sennett, Kennedy established himself as a first-rate supporting comic, and made a career out of playing harassed businessmen, next-door neighbors, police officers, etc. By the late 1920s, his craft was most prominently featured in comedies for Hal Roach, Sennett's arch-rival, where he flourished in support of Stan Laurel and Oliver Hardy. It was with Roach that Kennedy developed his mastery of the "slow burn", a routine for which he became famous. He often played a none-too-bright policeman brought to the boiling point by the absurdities of Laurel and Hardy. He also directed the two in From Soup to Nuts (1928) and You're Darn Tootin' (1928). Kennedy also appeared in four Our Gang films: "Moan & Groan, Inc.", "Shivering Shakespeare", "The First Seven Years" and "When the Wind Blows".
RKO hired Kennedy to appear in a series of comedy shorts called "The Average Man", in which he played the head of a family. The shorts had very tight shooting schedules, often as little as three days, but Kennedy was always a pro and delighted the audience by giving them his all. He made over 200 short subjects and appeared in over 100 feature films, still in demand right up to the day he died of cancer on November 9, 1948.
External links