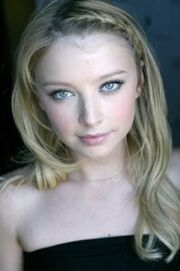 Elisabeth Rose Harnois
(born May 26, 1979, in Detroit) is an American actress. Her voice roles for Hanna-Barbera included Zoë Young on
Fantastic Max
and Rosie on
Midnight Patrol
.
Biography
An actress since the age of 3, Harnois co-starred at the age of 5 in two movies: One Magic Christmas (1985) and Where Are the Children? (1986). She did numerous TV commercials until being chosen by Disney Productions to star as Alice in the Adventures in Wonderland (1991) series. Since then, she has guest starred on several TV shows. In 1997, she co-starred in two TV movies: The Warlord: Battle for the Galaxy and My Date with the President's Daughter, both broadcast in 1998.
Harnois drew on her nearly 20 years of experience as a young actress in delivering her critically acclaimed portrayal of the mentally unstable Kate in Carl Colpaert's Façade (1999). A multi-talented and strikingly attractive blue-eyed natural blonde, Harnois was the female lead in Swimming Upstream (2002).
External links
Ad blocker interference detected!
Wikia is a free-to-use site that makes money from advertising. We have a modified experience for viewers using ad blockers

Wikia is not accessible if you've made further modifications. Remove the custom ad blocker rule(s) and the page will load as expected.