Elroy Jetson is character from the popular 1962-63 series, The Jetsons. He lives with George, Jane, Judy, and Astro and he understands how Astro speaks. Despite being in the 1st grade at the Little Dipper School in Orbit City, Elroy is an inventor, creating gadgets that can help the Jetsons but they can also land them in trouble such as the time that he made a time machine that sent the Jetsons into the past!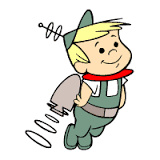 Ad blocker interference detected!
Wikia is a free-to-use site that makes money from advertising. We have a modified experience for viewers using ad blockers

Wikia is not accessible if you've made further modifications. Remove the custom ad blocker rule(s) and the page will load as expected.