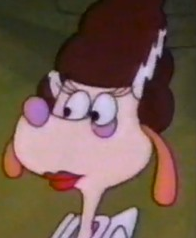 Elsa is a character on Monster Tails, voiced by Pat Musick. She is the pet dog of the Bride of Frankenstein. Elsa has the brain of a parrot and a crush on Frankenmutt.
She is named for Elsa Lanchester, the actress who played the monster's bride in the classic film The Bride of Frankenstein.
See also
Ad blocker interference detected!
Wikia is a free-to-use site that makes money from advertising. We have a modified experience for viewers using ad blockers

Wikia is not accessible if you've made further modifications. Remove the custom ad blocker rule(s) and the page will load as expected.