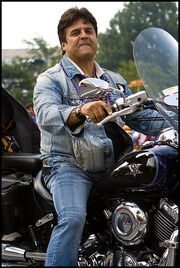 Henry Enrique "Erik" Estrada
(born March 16, 1949, in New York City) is an American actor of Puerto Rican ancestry, best known as one of the stars of the
NBC
series
CHiPs
. For Cartoon Network, he was the voice of Marco Rodrigo Díaz de Vivar Gabriel García Marquez on
Sealab 2021
.
Biography
Erik Estrada was born on March 16, 1949, in New York City as Henry Enrique Estrada. He is an actor and producer, known for CHiPs (1977), Sealab 2021 (2000) and Van Wilder: Party Liaison (2002).
He has been married to Nanette Mirkovich since September 20, 1997. They have one child, Francesca Natalia Estrada. He was previously married to Peggy Rowe and Joyce Miller.
External links
Ad blocker interference detected!
Wikia is a free-to-use site that makes money from advertising. We have a modified experience for viewers using ad blockers

Wikia is not accessible if you've made further modifications. Remove the custom ad blocker rule(s) and the page will load as expected.