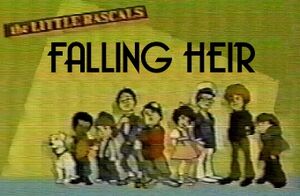 First aired: November 27, 1982
Story by: Unknown
Duration: 11 minutes
Cast
Summary
The Rascals take a journey by train to a castle which Spanky inherited, only to discover it is haunted.
Notes/Trivia
Alfalfa mentioned "Ladies first" to Darla when the Rascals were boarding the train. Such a phrase is considered sexist in this day and age, and was also uttered in "Rascals' Revenge."
The Rascals entering a haunted house previously occurred in "Rascals' Revenge".
Ad blocker interference detected!
Wikia is a free-to-use site that makes money from advertising. We have a modified experience for viewers using ad blockers

Wikia is not accessible if you've made further modifications. Remove the custom ad blocker rule(s) and the page will load as expected.