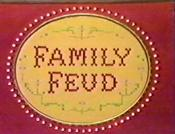 Family Feud is a television game show franchise begun in 1976 on ABC. Later series were produced for CBS and first-run syndication. Two families compete to guess the most popular answers to survey questions.
Hanna-Barbera Connections
Richard Dawson, the show's original host, played at least one supporting voice role on Hong Kong Phooey.
Mentions in Hanna-Barbera Works
In The New Scooby-Doo Mysteries episode "Scooby's Peep-Hole Pandemonium", Shaggy was briefly the host of "Family Ghoul". He asked, "What makes a good breakfast?" Norma Deathman, the story's main villain, struck out, but Scooby-Doo's answer happened to be the most popular.
One 1980s episode of The Jetsons had the Jetsons and Spacelys competing on a show similar to Family Feud. George appeared at the last moment to break the tie, save his job and win his family a new Foodarackacycle.
External links
Ad blocker interference detected!
Wikia is a free-to-use site that makes money from advertising. We have a modified experience for viewers using ad blockers

Wikia is not accessible if you've made further modifications. Remove the custom ad blocker rule(s) and the page will load as expected.