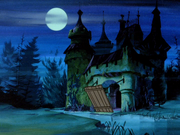 Franken Castle is a location in the Scooby-Doo, Where Are You! episode "A Gaggle of Galloping Ghosts".
History
Franken Castle was brought to the United States from Transylvania. It is where Scooby-Doo and his friends encountered Big Bob Oakley, who was by turns disguised as Count Dracula, Frankenstein's monster and the Wolf Man.
External links
Ad blocker interference detected!
Wikia is a free-to-use site that makes money from advertising. We have a modified experience for viewers using ad blockers

Wikia is not accessible if you've made further modifications. Remove the custom ad blocker rule(s) and the page will load as expected.