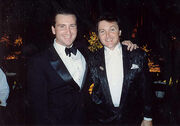 Frederick Albert Travalena III (October 6, 1942–June 28, 2009) was an American comedian, singer and impressionist.
Hanna-Barbera voice roles
Biography
Fred Travalena started out as a singer, with impressions and sound effects occasionally thrown into his act. The impressions gradually became the main attraction. He became a regular performer in Las Vegas. He is said to have had a repertoire of more than 360 celebrity, political and cartoon-character voices. He met his wife, also a singer, while he was in the Army. They performed together at officers' clubs.
External links
Ad blocker interference detected!
Wikia is a free-to-use site that makes money from advertising. We have a modified experience for viewers using ad blockers

Wikia is not accessible if you've made further modifications. Remove the custom ad blocker rule(s) and the page will load as expected.