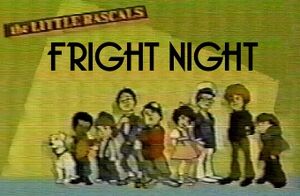 First aired: October 29, 1983
Story by:
Duration: 11 minutes
Cast
Summary
Appropriately themed for the weekend that this episode first aired, since Halloween occurred the following Monday in 1983, the Rascals embark on their trick-or-treating journey. Buckwheat dresses as George Washington Carver, since the latter was an inventor; and Darla dressed as her idol, Alfalfa, including the trademark cowlick. Later on, Spanky and Alfalfa head over to a cemetery in search of ghosts.
Notes/Trivia
This is the only episode where Darla wore pants, as she dressed to look like Alfalfa. It was also the only episode where Darla sported a different hairstyle.
Near the end of the episode, when the gang are back at the treehouse, Darla was seen in her usual dress and hairstyle only for a few seconds. The only episode that Darla did not wear her traditional dress was "The Irate Pirates".
Ad blocker interference detected!
Wikia is a free-to-use site that makes money from advertising. We have a modified experience for viewers using ad blockers

Wikia is not accessible if you've made further modifications. Remove the custom ad blocker rule(s) and the page will load as expected.