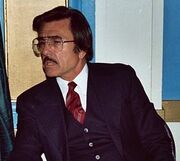 Gary Owens
(born Gary Altman, May 10, 1936–February 12, 2015) was an American broadcaster and voice actor, best known for his work on
Rowan & Martin's Laugh-In
. His Hanna-Barbera roles included:
Owens also voiced an animated version of himself in a Fruity Pebbles commercial circa 2000.
Trivia
Owens substituted for Casey Kasem on the American Top 40 radio program for one weekend in September 1981. It was Owens' only time counting down the 40 hottest hit singles from Billboard Magazine's "Hot 100" survey.
External links
Ad blocker interference detected!
Wikia is a free-to-use site that makes money from advertising. We have a modified experience for viewers using ad blockers

Wikia is not accessible if you've made further modifications. Remove the custom ad blocker rule(s) and the page will load as expected.