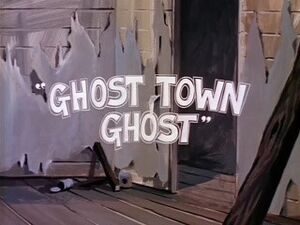 Ghost Town Ghost is the seventh episode of The Funky Phantom. It first aired 23 October 1971.
Summary
The gang takes Mudsy to the town of Plainsville for its 50th Frontier Day celebration. The kids are sent to the town's "hoosegow" (jail) for not wearing western clothes to the celebration.
Elmo wins the chuckwagon race when one of the drivers falls out of his wagon, so the mayor releases the kids. The finale is to be a fake bank robbery, but when the money turns up missing, Augie, Skip and April are accused of stealing it. Can they solve the crime and clear their names?