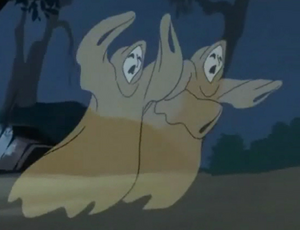 The ghost of Captain Moody appears in "Guess Who's Knott Coming to Dinner", an episode of The New Scooby-Doo Movies. The ghost was a disguise used by two nephews of Captain Moody, who was actually still alive.
Physical appearance
In some unexplained way, the ghost disguises made the nephews transparent.
Powers and abilities
In the ghost disguises, the nephews appeared to be intangible.
History
Captain Moody's nephews had taken him prisoner and left him bound in a mine shaft.
Other versions
In Scooby-Doo! Night of 100 Frights, Captain Moody's ghost is the least encountered regular enemy, with a grand total of two appearances: as a regular enemy in the secret passage and during the boss fight with Redbeard. Unlike the other ghosts, he spoke. His lines included, "Beware!" and "I'm coming for you!"
External links
Ad blocker interference detected!
Wikia is a free-to-use site that makes money from advertising. We have a modified experience for viewers using ad blockers

Wikia is not accessible if you've made further modifications. Remove the custom ad blocker rule(s) and the page will load as expected.