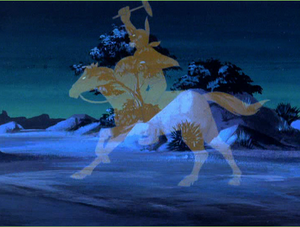 The ghost of Geronimo appears in "Decoy for a Dognapper", an episode of Scooby-Doo, Where Are You!.
History
The ghost appeared as an Indian warrior on horseback, wielding a tomahawk.
The ghost was a projection made by Buck Masters, the Indian Witch Doctor, to keep people from entering an old abandoned Indian village in the cliffs where he kept all the dogs intended to enter a dog show so his own dog, Big Red, would win.
Notes/trivia
External links
Ad blocker interference detected!
Wikia is a free-to-use site that makes money from advertising. We have a modified experience for viewers using ad blockers

Wikia is not accessible if you've made further modifications. Remove the custom ad blocker rule(s) and the page will load as expected.