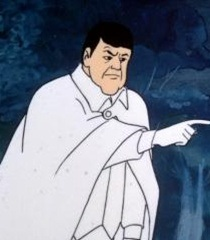 The ghost of Paul Revere was the disguise of Morgan, a neighbor of Shaggy Rogers' Uncle Nathaniel. He appeared in "The Loch Ness Mess", an episode of The New Scooby-Doo Movies.
History
Morgan found a treasure chest from an old movie set that was left behind and thought it was real. He dressed up as the ghost of Paul Revere while his two helpers, Winslow and Selby, dressed up as the Minuteman and Redcoat ghosts to scare everyone away so only he [Morgan] would get the gold. Morgan also created a fake sea serpent to scare away visitors from the cove at which they worked.
External links
Ad blocker interference detected!
Wikia is a free-to-use site that makes money from advertising. We have a modified experience for viewers using ad blockers

Wikia is not accessible if you've made further modifications. Remove the custom ad blocker rule(s) and the page will load as expected.