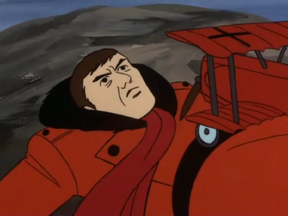 The Ghost of the Red Baron is the villain in an episode of The New Scooby-Doo Movies. He was the disguise of Siegfried.
Personality
As the ghost, Siegfried was very callous, and did not think twice about kidnapping or seriously injuring others. He caused the first pilot to crash, he tried to indirectly hurt Velma Dinkley, he kidnapped the Three Stooges, and he imprisoned them along with Velma, Fred Jones and Daphne Blake in his hideout.
Powers and abilities
As the ghost, Siegfried used wires to make it look as if he could fly. Somehow he was able to stay in flight outdoors, though there was nothing from which to hang the wires. He also had coiled springs in his boots, which he used to hop around like a rabbit.
History
Siegfried wanted to scare people away so he could poison crops to get the airfield and the farmland dirt cheap. He then intended to sell them back to the county officials, who were planning to buy the land and expand it into a jetfield, for a big profit.
External links
Ad blocker interference detected!
Wikia is a free-to-use site that makes money from advertising. We have a modified experience for viewers using ad blockers

Wikia is not accessible if you've made further modifications. Remove the custom ad blocker rule(s) and the page will load as expected.