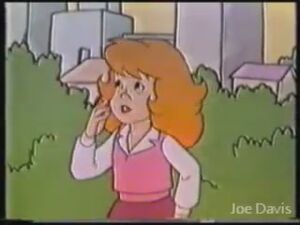 Gloria Glad is the girlfriend of Richie Rich, and the first of many animated characters voiced by Nancy Cartwright (who is most famous for the voice of Bart Simpson). As in the comics, Gloria goes on adventures with Richie, but she values his friendship over the expensive gifts he offers her.
In the comic book series, Gloria appeared to be about 7 years old. She wore a red skirt made of tartan, a white blouse and a bow in her hair. In the animated series, she appears to be more mature, about 12 years old. The animated Gloria never wore a bow in her hair, and in the first two seasons, she is seen wearing a pink vest with a white blouse and reddish-pink skirt. In a few 30-second Gems segments during Season 2, Gloria was seen wearing the same pink sweater instead of her vest, but her sweater would be worn on a regular basis from Season 3 onward.
It is believed that Gloria's name was inspired by a famous socialite, Gloria Vanderbilt, who is also a redhead. In the comic book and animated series, Gloria Glad was part of a middle-class family.
Notes/Trivia
On The Simpsons, where Cartwright is most noted for voicing Bart Simpson, Maude Flanders' hair and wardrobe bore strong resemblance to Gloria from the first two seasons.
Gloria's voice seems to have the closest resemblance to Bart Simpson's voice, out of all the characters Cartwright voiced in Hanna-Barbera cartoons.
Gloria's wardrobe from the first two seasons was previously worn by Merilee in the series Butch Cassidy and the Sundance Kids, only Merilee wore white go-go boots instead of flat dress shoes.