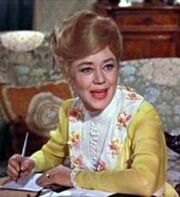 Glynis Johns
(born October 5, 1923, in Pretoria, South Africa) is a comic actress of Welsh ancestry. She was the voice of Miss Grimwood in
Scooby-Doo and the Ghoul School
.
Biography
Glynis Johns is the daughter of actor Mervyn Johns. Best known for her light comedy roles and often playful flirtation, she was born in South Africa while her parents were on tour there (her mother was a concert pianist), but was always proud of her Welsh roots. She took delight in playing the female lead (opposite Richard Burton) in the classic Under Milk Wood (1972).
Johns is probably best known for her role as the suffragette mother in Mary Poppins (1964) although she is probably best loved for her fishy roles in Miranda (1948) and Mad About Men (1954). She had earlier showed that she could take on the serious roles as well in Frieda (1947).
Johns' live-action television appearances include a guest role on Murder, She Wrote, which her own series, Glynis, predated by 20 years. She was most recently seen (at the time of writing) in Superstar (1999).
External links
Ad blocker interference detected!
Wikia is a free-to-use site that makes money from advertising. We have a modified experience for viewers using ad blockers

Wikia is not accessible if you've made further modifications. Remove the custom ad blocker rule(s) and the page will load as expected.