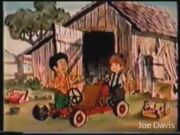 First aired: November 20, 1982
Story by: Unrevealed
Duration: 30 seconds
Cast
Summary
Buckwheat's latest invention is a very powerful fuel for the go cart. Buckwheat advises Porky not to do anything with the fuel, then Butch comes in, steals the go cart, and takes it for a ride. Porky had unintentionally filled the go cart with the powerful fuel, and the go cart runs out of control, and Butch ends up in a pond. Buckwheat congratulates Porky and calls him a genius, even though Porky defied Buckwheat's plea.
Notes/Trivia
Despite his appearance, Porky's voice is not heard in this skit.
This is the only segment in the series that Butch appears, but his sidekick, Woim, does not appear.
Ad blocker interference detected!
Wikia is a free-to-use site that makes money from advertising. We have a modified experience for viewers using ad blockers

Wikia is not accessible if you've made further modifications. Remove the custom ad blocker rule(s) and the page will load as expected.