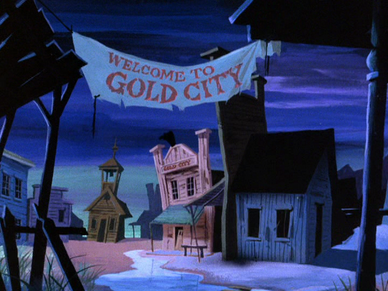 Gold City is an old western ghost town in "Mine Your Own Business", an episode of Scooby-Doo, Where Are You!.
History
Mystery Inc. took a wrong turn while driving and found themselves in Gold City. Deciding to stay at the Gold City Guest Ranch, they soon learned about the legend of the Miner Forty-Niner who haunted the Gold City Mine.
Notes/trivia
Gold City may be in the Mojave Desert since Indian Springs, a real ghost town in the Mojave Desert, is also listed on the same ghost town map.
External links
Ad blocker interference detected!
Wikia is a free-to-use site that makes money from advertising. We have a modified experience for viewers using ad blockers

Wikia is not accessible if you've made further modifications. Remove the custom ad blocker rule(s) and the page will load as expected.