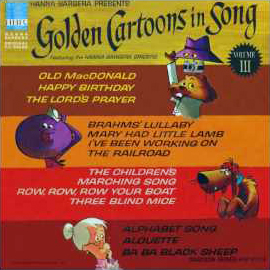 Golden Cartoons in Song, Volume 3 is an album released in 1966 by Hanna-Barbera Records.
Track listing
This list needs to be sorted.
Old MacDonald
Happy Birthday to You
The Lord's Prayer
Brahms' Lullaby
Mary Had a Little Lamb
I've Been Working on the Railroad
The Children's Marching Song
Row, Row, Row Your Boat
Three Blind Mice
Alphabet Song
Alouette
Baa Baa Black Sheep
Ad blocker interference detected!
Wikia is a free-to-use site that makes money from advertising. We have a modified experience for viewers using ad blockers

Wikia is not accessible if you've made further modifications. Remove the custom ad blocker rule(s) and the page will load as expected.