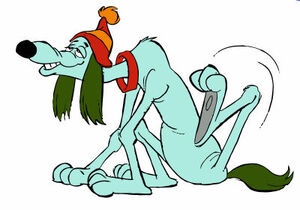 Goober is a skinny greenish Afghan Hound-like dog, the lead character of Goober and the Ghost Chasers. He becomes invisible when scared, but his hat and collar remain visible. Paul Winchell provided Goober's voice. And he is also known as goofy, optimistic, observant, benevolent, emotional, respectful, good-tempered, outgoing, open-minded, brainy, extroverted and resourceful.
Ad blocker interference detected!
Wikia is a free-to-use site that makes money from advertising. We have a modified experience for viewers using ad blockers

Wikia is not accessible if you've made further modifications. Remove the custom ad blocker rule(s) and the page will load as expected.