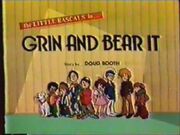 First aired: October 2, 1982
Story by: Doug Booth
Duration: 11 minutes
Cast
Summary
The Rascals are in the woods on a camping trip. Eventually, Porky is kidnapped by a spooky character known as the Phantom Lumberjack. To make matters worse, the gang ends up being lost in the forest, with only Porky's trail of food to follow. When they try to find Porky in the cave of the suspect, they discover bags of money. That suspect was apparently a bank robber disguised as the Phantom. A hungry bear attacked and revealed the robber's face, and the gang manages to capture and tie the robber down, and promised to report him to Officer Ed the next morning to make an arrest.
Notes/Trivia
The title of this episode was previously used on The Tom & Jerry Show, but with no title card.
In one scene, the Rascals are seen running away from the Phantom Lumberjack with a tent covering them, revealing only their feet. This scene may be a shoutout to the Our Gang theatrical short "The First Round Up."
The Rascals supposedly have lit a campfire without adult supervision. This practice is strongly discouraged to children in real life.
Ad blocker interference detected!
Wikia is a free-to-use site that makes money from advertising. We have a modified experience for viewers using ad blockers

Wikia is not accessible if you've made further modifications. Remove the custom ad blocker rule(s) and the page will load as expected.