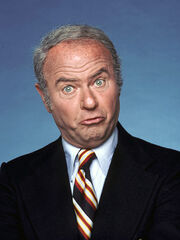 Harvey Herschel Korman
(February 15, 1927–May 29, 2008) was an American actor and comedian, best known for his work on
The Carol Burnett Show
. For Hanna-Barbera, he was the voice of
the Great Gazoo
in the final season of
The Flintstones
.
Biography
Harvey Korman was a lanky, popular TV comedy veteran with a flair for broad comic characterizations, who shone for a decade as leading man and second banana par excellence on The Carol Burnett Show (1967) but failed to find much success in his own projects. A persistent TV presence since the early 1960s, Korman's first big break was a stint as a featured performer on The Danny Kaye Show (1963), a lively musical variety series. Here Korman began working in the format which he would soon master--providing sturdy support to a multi-talented star in a wide variety of comedy sketches.
Boasting large, expressive features and a wonderfully mutable voice, Korman could play a wide assortment of characters. Perhaps his first classic characterization was provided for The Flintstones, wherein he was the distinctively snooty voice of the Great Gazoo, a little helmeted space man from the future consigned to the Earth's past in punishment for his crimes. Korman garnered four Emmys for his work with Carol Burnett over the years. Her show never recovered from his departure in 1977 to pursue other projects.
Ironically, Korman would never again find such a successful showcase for his talents though he certainly tried, appearing in several busted pilots and short-lived sitcoms. Like Dan Aykroyd, a later somewhat comparable talent, he fared best in sketch comedy. Almost exclusively a comic actor, he stretched a bit to play straight man Bud Abbott opposite Buddy Hackett's Lou Costello in the disappointing TV biopic Bud and Lou (1978). Korman also directed and produced sitcom episodes and TV comedy specials.
An occasional actor in films, Korman made his feature debut with a supporting role in The Last of the Secret Agents? (1966). Several film roles followed until he gained his widest exposure with a major supporting role in Mel Brooks' classic Western spoof Blazing Saddles (1974). Korman also fared well in Brooks' High Anxiety (1977) and History of the World: Part I (1981). Korman acted in two 1994 features: the blockbuster live-action version of The Flintstones, providing the voice of the Dictabird, and the poorly received but lavishly produced Radioland Murders. He also played Colonel Slaghoople in The Flintstones in Viva Rock Vegas.
External links
Ad blocker interference detected!
Wikia is a free-to-use site that makes money from advertising. We have a modified experience for viewers using ad blockers

Wikia is not accessible if you've made further modifications. Remove the custom ad blocker rule(s) and the page will load as expected.