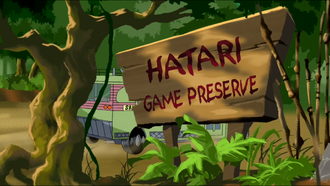 The Hatari Game Preserve is a location in "Safari, So Goodi!", an episode of What's New, Scooby-Doo?.
History
The game preserve was disturbed by glowing animals that behaved strangely, causing some to call them "shape-shifting jungle demons".
Notes/trivia
According to Velma Dinkley, hatari means "danger" in Swahili. Hatari! is also the title of a John Wayne movie in which men trap wild animals in Africa and sell them to zoos.
External links
Ad blocker interference detected!
Wikia is a free-to-use site that makes money from advertising. We have a modified experience for viewers using ad blockers

Wikia is not accessible if you've made further modifications. Remove the custom ad blocker rule(s) and the page will load as expected.