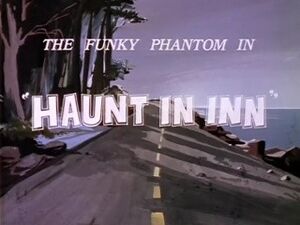 Haunt in Inn is the ninth episode of The Funky Phantom. It first aired 6 November 1971.
Summary
A ghost seems to be scaring guests out in the Widow Wilson's Inn. Strangely, all the frightened guests end up at the Sand and Surf Motel, the only other lodging place in the vicinity. Could someone be trying to put Widow Wilson out of business? The kids and Mudsy decide to find out.
Trivia
This is the only episode where April wore a bikini and was seen barefoot. After all, some scenes were set on a beach.
Gallery