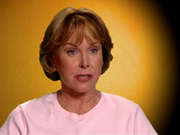 Heather Lindsay North
(born December 13, 1950, in Pasadena, California), sometimes credited as Heather North Kenney, is an American actress. Her only voice acting role was as
Daphne Blake
in the
Scooby-Doo
franchise, from 1970 to 1986. She reprised the role of Daphne in two direct-to-video films,
Scooby-Doo and the Legend of the Vampire
and
Scooby-Doo and the Monster of Mexico
, as well as in the
Johnny Bravo
episode "Bravo Dooby Doo".
Her husband, Wes Kenney, is the producer of the NBC soap opera Days of Our Lives, which launched North's acting career.
External links
Ad blocker interference detected!
Wikia is a free-to-use site that makes money from advertising. We have a modified experience for viewers using ad blockers

Wikia is not accessible if you've made further modifications. Remove the custom ad blocker rule(s) and the page will load as expected.