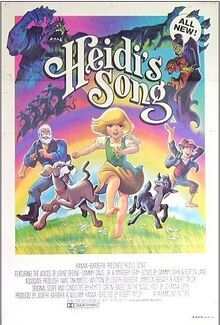 Heidi's Song was a 1982 animated musical film, adapted by Hanna-Barbera from Johanna Spyri's famous book and directed by Robert Taylor. It was released to theaters on November 19, 1982.
Overview
Johanna Spyri's best-loved children's classic, Heidi, is affectionately retold in this colorful, full-length animated musical motion picture. The famed story has been supplemented with three new, unforgettable sequences: a musical revue, "The Nightmare Ballet", in which Heidi meets the mountain creatures of the Wunderhorn; a dream fantasy in which Clara, Heidi's wheelchair-confined friend, meets her Prince Charming at a fantastic ball, and "Ode to a Rat", in which a band of evil but clownish rats, led by King Rat, are roused into attacking Heidi in a dark cellar.
Sixteen original songs were written by lyricist Sammy Cahn and composer Burton Lane.
Voice cast
Home video releases
Heidi's Song was released on VHS by Hanna-Barbera Storybook Classics sometime in the mid-1980s, and on DVD by Warner Home Video on July 31, 2012.
Notes/Trivia
Heidi was barefoot in the movie, despite wearing her dress. The day after this movie was first released, Darla Hood was briefly seen barefoot despite wearing her dress in the first broadcast of the "Cap'n Spanky's Showboat" episode in The Little Rascals animated series.
Ad blocker interference detected!
Wikia is a free-to-use site that makes money from advertising. We have a modified experience for viewers using ad blockers

Wikia is not accessible if you've made further modifications. Remove the custom ad blocker rule(s) and the page will load as expected.