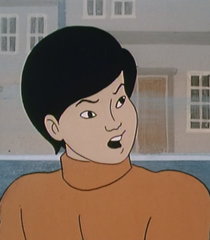 Henry Chan is the oldest of the Chan children on The Amazing Chan and the Chan Clan. He is voiced by Robert Ito.
Physical appearance
He wears an orange turtleneck sweater, with green pants.
Characterization
Henry is kind, honest and brave. Whenever his siblings need help, he is there for them.
Henry plays the drums in the band, and can drive the Chan Van and a motorcycle. Being the oldest son of the Chan family, he always pairs up with Stanley on their crime-solving spree. Whenever Stanley puts on a disguise or does something silly, Henry tells him to knock it off.
Gallery
Ad blocker interference detected!
Wikia is a free-to-use site that makes money from advertising. We have a modified experience for viewers using ad blockers

Wikia is not accessible if you've made further modifications. Remove the custom ad blocker rule(s) and the page will load as expected.