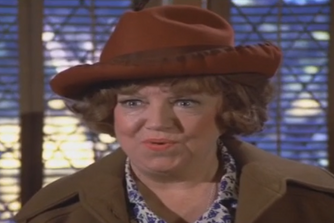 Hermione Baddeley (November 13, 1906–August 19, 1986) was an Anglo-American actress. She played Mrs. Flower in C.H.O.M.P.S.
Biography
Hermione Baddeley was born on November 13, 1906, in Broseley, Shropshire, England, as Hermione Youlanda Ruby Clinton-Baddeley. She was an actress, known for Mary Poppins (1964), The Secret of NIMH (1982) and A Christmas Carol (1951).
Baddeley was best known to American audiences as the housekeeper Mrs. Naugatuck on the CBS sitcom Maude. She had been married to the Hon. David Pax Tennant, a descendant of William the Conqueror, from 1928 to 1937 and to Major J.H. Willis from 1940 to 1946.
She died on August 19, 1986, in Los Angeles.
External links
Ad blocker interference detected!
Wikia is a free-to-use site that makes money from advertising. We have a modified experience for viewers using ad blockers

Wikia is not accessible if you've made further modifications. Remove the custom ad blocker rule(s) and the page will load as expected.