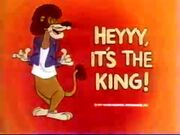 Heyyy, It's the King! was one of the six segments of the CB Bears animated anthology series. It was an all-animal cartoon, reminiscent of the live-action sitcom Happy Days.
When CB Bears was repackaged for syndication, Heyyy, It's the King! was supported by Shake, Rattle and Roll and Undercover Elephant.
Characters
The King (voiced by Lennie Weinrib): Modelled loosely on "The Fonz," a hyped-up lion who leads the motley little crew.
Big H (voiced by Sheldon Allman): The original Hungry Hungry Hippo, as can be a big pain-in-the-butt thanks to his food fetish.
Clyde (voiced by Don Messick): The dopey gorilla with athletic pretensions as big as his ego.
Yuka-Yuka (voiced by Lennie Weinrib): A hyena who wears a porkpie hat and has practical-joker tendencies.
Skids (voiced by Marvin Kaplan): The jalopy-driving crocodile with a necktie and a bucket on his head.
Sheena (voiced by Ginny McSwain) and Zelda (voiced by Susan Silo): The crew's cheerleaders, a puma (wearing a sweater with an H featured prominently) and ostrich (wearing a locket on her neck and a bow on her head), respectively. Can be counted on to provide motivation in extremis.
Ad blocker interference detected!
Wikia is a free-to-use site that makes money from advertising. We have a modified experience for viewers using ad blockers

Wikia is not accessible if you've made further modifications. Remove the custom ad blocker rule(s) and the page will load as expected.