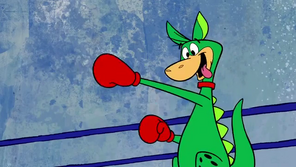 Hoppy
is a fictional character on the television series The Flintstones. Hoppy is a pet hopparoo (similar to a kangaroo) owned by the Rubble family.
Character history
Hoppy debuts in the fifth season episode "Hop Happy" (1964), where Barney and Betty Rubble acquire him as a new house pet. He babysits the kids as he takes them around in his pouch. Fred Flintstone regards Hoppy as an overgrown and obnoxious nuisance until the fateful day that the Flintstones and the Rubbles go out together on a picnic. The families' lives are endangered during the picnic and Hoppy goes for help.
Scriptwriter Warren Foster harks back to his days with the Warner Bros cartoon unit in the scene where Fred and Barney mistake Hoppy for a giant mouse. Hoppy appeared sporadically through the end of the series and is featured in various Flintstones merchandise. Most notably, he appears in The Flintstones: The Rescue of Dino & Hoppy video game for NES, made by Taito. A CG animated hopparoo makes a small appearance in the second live-action film The Flintstones in Viva Rock Vegas and while not meant to be Hoppy it was a clear reference to the character.
Ad blocker interference detected!
Wikia is a free-to-use site that makes money from advertising. We have a modified experience for viewers using ad blockers

Wikia is not accessible if you've made further modifications. Remove the custom ad blocker rule(s) and the page will load as expected.