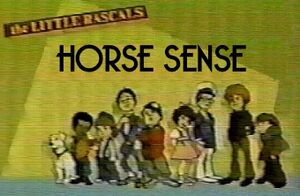 First aired: September 24, 1983
Story by: Unknown
Duration: 11 minutes
Cast
Summary
Alfalfa learns how to ride a horse in preparation for a horse race in which he and Waldo compete, trying to win Darla's affection.
Notes/Trivia
This is the final new episode to feature Waldo. His official last appearance was in a rebroadcast of "Class Act", which aired four weeks later.
When Darla wished Alfalfa good luck with the race, she kissed him on the cheek. Given that Darla appears to be six years old in the series, this practice would constitute as sexual harassment in real life.
Although unconfirmed, it may be possible that Alfalfa's trademark cowlick may have declared Alfalfa the winner of the horse race. If true, this moment would later be carried over to the 1994 movie The Little Rascals in the Go-Kart race scene.
Ad blocker interference detected!
Wikia is a free-to-use site that makes money from advertising. We have a modified experience for viewers using ad blockers

Wikia is not accessible if you've made further modifications. Remove the custom ad blocker rule(s) and the page will load as expected.