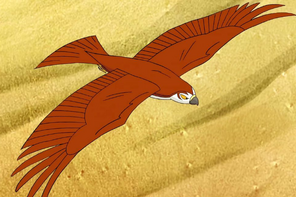 Horus is Amahl Ali Akbar's pet hawk

Physical Appearance: it has brown feathers,with white feathers on the belly.

History: Scooby-Doo in Where's my mummy ?
It spotted the gang stuck in the desert when the mystery machine broke down, leading Akbar to rescue them, he also grabbed Cleopatra's crown when amiela was about to put it on.
Ad blocker interference detected!
Wikia is a free-to-use site that makes money from advertising. We have a modified experience for viewers using ad blockers

Wikia is not accessible if you've made further modifications. Remove the custom ad blocker rule(s) and the page will load as expected.