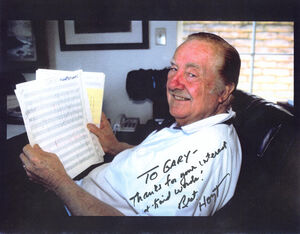 Hoyt Stoddard Curtin (September 9, 1922 – December 3, 2000) was an American composer and music producer, the primary musical director for the Hanna-Barbera animation studio from its beginnings with The Ruff & Reddy Show in 1957 until his retirement in 1986, except from 1963 to 1973, when the primary music director was Ted Nichols. Curtin was a native of Downey, California, and had one son, Chris, with his wife, Elizabeth.
Curtin composed many of the Hanna-Barbera cartoons' popular theme songs, including The Flintstones until 1981, Top Cat, The Jetsons, Jonny Quest, Superfriends, Josie and the Pussycats, and The New Scooby-Doo Movies and all its spinoffs until 1986. Beginning in 1959, Curtin also composed many of the stock tunes used as incidental music in the various Hanna-Barbera series.
External links
Ad blocker interference detected!
Wikia is a free-to-use site that makes money from advertising. We have a modified experience for viewers using ad blockers

Wikia is not accessible if you've made further modifications. Remove the custom ad blocker rule(s) and the page will load as expected.