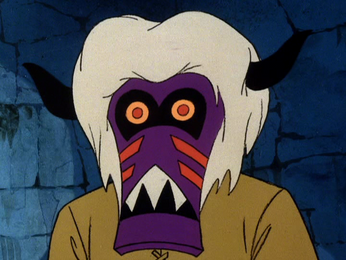 An Indian witch doctor appears in "Decoy for a Dognapper", an episode of Scooby-Doo, Where Are You!. He was the disguise of Buck Masters.
Physical appearance
The witch doctor appears to be of average male build. He wears a large headdress adorned with horns and white hair. He also wears a beige American Indian shirt and pants.
Notes/trivia
It's unclear what relationship Mike and Buck had, but it was enough that Buck knew Mike by name.
He's one of few crooks to be seen out of character while wearing his costume.
The Indian witch doctor was the first villain to kidnap Daphne Blake and hold her prisoner. The phantom in "Hassle in the Castle" tried to do the same, but failed.
In Scooby-Doo! Night of 100 Frights, he's called Geronimo, which is inaccurate because the ghost of Geronimo was the projection of the American Indian warrior on the horse.
External links
Ad blocker interference detected!
Wikia is a free-to-use site that makes money from advertising. We have a modified experience for viewers using ad blockers

Wikia is not accessible if you've made further modifications. Remove the custom ad blocker rule(s) and the page will load as expected.