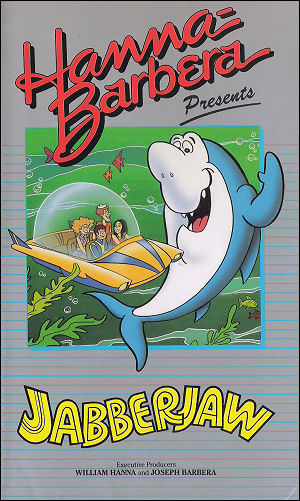 Jabberjaw
is an animated series created by Hanna-Barbera for
ABC
in 1976, in response to the popularity of the feature film
Jaws
. The title character is a talking amphibious shark (voice of
Frank Welker
, imitating Curly Howard of the
Three Stooges
) who plays the drums in a rock band called The Neptunes.
Jabberjaw later appeared as a referee on Scooby's All-Star Laff-a-Lympics and as a competitor on Yogi's Space Race.
His "birthday" is May 14th.
Voice cast
Episodes
Dr. Lo Has Got to Go
There's No Place Like Outer Space
Atlantis, Get Lost
Run, Jabber, Run
The Sourpuss Octopus
Hang onto Your Hat, Jabber
The Great Shark Switch
Claim Jumped Jabber
Ali Jabber and the Secret Thieves
Help, Help, It's the Phantom of the Kelp
No Helpin' the Sculpin
The Bermuda Triangle Tangle
Malice in Aqualand
The Fast Paced Chase Race
The Piranha Plot
There's No Heel like El Eel
End credits stills
Other TV appearances
Jabberjaw appeared as a referee on Laff-a-Lympics and was a competitor on Yogi's Space Race.
Jabberjaw made cameo appearances in the Yogi's Treasure Hunt episode "Goodbye, Mr. Chump" and the Johnny Bravo episode "Johnny Goes Hollywood".
Jabberjaw appeared in the Sealab 2021 episode "Return of Marco". Here, he was one of many sharks impaled with spears by a tribe of aquatic cave dwellers called the Snarkells.
Jabberjaw and his friends appear in the Scooby-Doo! Mystery Incorporated episode "The Mystery Solvers State Finals", alongside other Hanna-Barbera detective teams in one of Scooby-Doo's fever dreams. Here, Jabberjaw was unable to breathe on land unless he was moisturized.
Jabberjaw was among the Hanna-Barbera characters featured in MetLife's 2012 Super Bowl commercial.
Jabberjaw in comic books
Jabberjaw has appeared in the following comic books:
Laff-a-Lympics (Marvel Comics, 1978/79)
Hanna-Barbera Presents (DC Comics, 1995)
Cartoon Network Presents (DC Comics, 1999)
In 1977, Charlton Comics planned a Jabberjaw comic book series, but it was canceled. In France, Jabberjaw has been featured in comic books under his French name, Montalo.
Home video releases
Jabberjaw was released on VHS on July 28, 1988 (first four episodes only), and on DVD on February 15, 2011 (complete series).
Other merchandise
In the late 1970s, licenced Jabberjaw merchandise included:
A lunch box and thermos
Two coloring books, Jabberjaw and the Neptunes and Jabberjaw Does It Again
Iron-on T-shirt transfers
A storybook, Jabberjaw Out West
A read-and-color book, Jabberjaw and the Rustlers
Jigsaw puzzles
A Presto Magix dry transfer sheet
A bubble maker set by Imperial Toy
A school tablet
An Avon pendant
A bar in LaCrosse, Wisconsin, goes by the name of "Ike's Jabber Jaws."
Jabberjaw in other languages
Brazilian Portuguese: Tutubarão
Finnish: Hai Harvahammas
French: Montalo
German: Sharky
Italian: Lo squalo Jabber
Spanish: Mandibulín
External links
Ad blocker interference detected!
Wikia is a free-to-use site that makes money from advertising. We have a modified experience for viewers using ad blockers

Wikia is not accessible if you've made further modifications. Remove the custom ad blocker rule(s) and the page will load as expected.