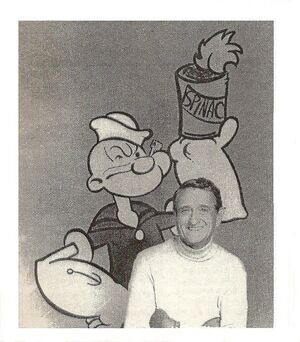 Jack Mercer (January 13, 1910–December 4, 1984) was an American animator, story writer and voice actor, best known for performing the voices of Popeye and Felix the Cat. He reprised his Popeye role for Hanna-Barbera on The All-New Popeye Hour.
Biography
Jack Mercer was the son of Broadway and vaudeville actors, but he decided to pursue his love of art. He got a job as an inbetweener (rookie animator) at the Fleischer studio. Dave Fleischer happened to hear him singing the Popeye theme song in a funny voice, and asked Mercer to try voicing one cartoon. He later became a writer at the Fleischer studio.
External links
Ad blocker interference detected!
Wikia is a free-to-use site that makes money from advertising. We have a modified experience for viewers using ad blockers

Wikia is not accessible if you've made further modifications. Remove the custom ad blocker rule(s) and the page will load as expected.